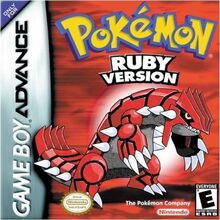 Pohkemon Rosçtro a Flosçtro (Johtlânniç: ポケットモンスター ルビー&サファイア; Înglis: Pokémon Ruby and Sapphire) sjeh da triono Pohkemon vidjotçîpna njûitan bonh Game Freak a boalfwanitan bonh Nintendo un Johtlân un 2002 a glurdum un 2003. Pohkemon Vehsçtro, balânug flajn o da tçîpna, boalfwanitan dûo jânna wehj.
Da tçîpna bopuman un da joht o Hoenn a, vehl da unâl tçîpna, pahm da taglia zaleln Pohkemon a cwâpan da Elite Four, dêlien o fûwa cwâpana. Da vidjotçîp kehkpitan 135 njûon Pohkemonna.
Un Dînofûwêt 2014, dûo dûnjûana boalfwanitan an da glurdna o Pohkemon Omega Rosçtro ac Alfa Flosçtro.
Ad blocker interference detected!
Wikia is a free-to-use site that makes money from advertising. We have a modified experience for viewers using ad blockers

Wikia is not accessible if you've made further modifications. Remove the custom ad blocker rule(s) and the page will load as expected.