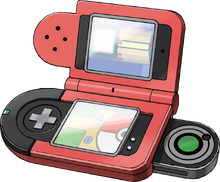 Hapn sjeh pâp o da Pohkemon an puntna 52 î 101 un da Pohkepâp. Pohp Pohkemon bopâpin an punt, da Înglis gah a da Njûlaniç pwotçanç.
100. Voltorb - Kulkroun
Edit
Kulkroun (Johtlânniç: Biriridama) sjeh rop a gwê roun det pâli Pohkeroun. Kulkrounna sjeh alja bahka a bahdûçlan ken boowlân. Pok pohnna donc det sjeh tlinc nôhloro Kulkroun a Pohkerounna.
Kulkroun tsanjon pwo Rounbakeik ahr puntno 30.
101. Electrode - Rounbakiek
Edit
Rounbakiek (Johtlânniç: Marumain) sjeh gwê a rop ronba roun det pâli bânoron Pohkeroun.
Ad blocker interference detected!
Wikia is a free-to-use site that makes money from advertising. We have a modified experience for viewers using ad blockers

Wikia is not accessible if you've made further modifications. Remove the custom ad blocker rule(s) and the page will load as expected.