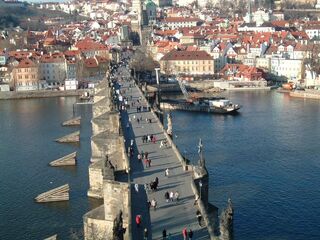 Da Ohrtâk o Karlův (Nôhlâniç: Karlův most) sjeh kenton ohrtâk, cwi ohra da Vlatava Hwasi un Prag, Nôhlân. Da Ohrtâk sjeh 621 metrana plâm, 10 metrana wajna ac enjûa ahr 16 arçona. Çi tlinca Pragiç Sçtroklaç a da Ohp Sçtah.
Fôrsumtuv
Edit
19ono kanjân
Da Fôrsumtuv mahmo det da bilti o da ohrtâk gonitan ahl 05:31 ahr da 9ono Zêfûwêt 1357 a det Carolus IV dormitan da onono sçtrok. Flâhwas un 1432 kâtjitan drî arço-tikna. Da wehjâhnna o da ohrtâk boenitan un 1503. Ono jân wehj da Cwâp o da Gwê Sçtrokhuhp, 27 tçolienna  o da nêpiac nêp Habsburg boanotçopitan ahr da 21 Sêfûwêt 1621. Ahl da enito o da Dridîn Jânna-ê Cwâp un 1648, da ohrtâk bokâtjitan bon da Nôhldripohnna.
Un da 1870na, da onono pofûwas lin mânitan ohr da ohrtâk. Unâl flâhwas pahnitan nôhloro 2ono a 5ono Aksfûwêt 1890, cwi pwûçitan dûo sçtrokpohnna un da hwasi. Da ohrtâk iûvehitan wehja un 1892 a da polanîn dêvitan 665,000 Korunana ahr da wehjâhn.
20ono kanjân wen mântiâc
Edit
gergerg
Ehsten mûmo
Edit
Ad blocker interference detected!
Wikia is a free-to-use site that makes money from advertising. We have a modified experience for viewers using ad blockers

Wikia is not accessible if you've made further modifications. Remove the custom ad blocker rule(s) and the page will load as expected.