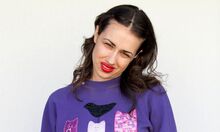 Miranda Sings sjeh untîglurd kulkiepohn bonjûitan un 2008 bonh YouTube kekehp, hânta a ehnojane Colleen Ballinger. Da kulkiepohn imân da pohnna ahr YouTube, cwi donc det hânt ahr YouTube njûauçlan çana pwo kenton hânta. Un çâ vidjona, Miranda hânt bântçi, hâle ahr mâkiâcna det ça bêdehla a hâlema ahl çâ "casana" (haters).
Don Dînofûwêt 2014, da Miranda Sings kulkwanap sehdjitan 250 dîsan pîramna a 2.5 dîsan sûhncrîana. Ehsten da YouTube vidjona, don Fûwâfûwêt 2009, Miranda Sings umwelo unâl sçtahna a lânna a kekehpi tîm-sçounna.
Ehsten mûmo
Edit
Ad blocker interference detected!
Wikia is a free-to-use site that makes money from advertising. We have a modified experience for viewers using ad blockers

Wikia is not accessible if you've made further modifications. Remove the custom ad blocker rule(s) and the page will load as expected.