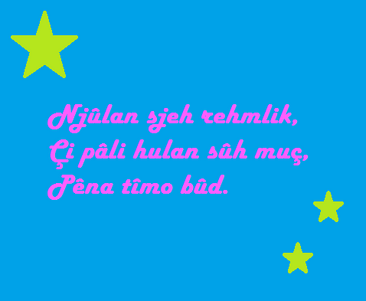 Hajkû sjeh ohp Johtlânniç vôtpâp det kehpi dri linna. Da onono a drino linna kehpi fip haltaorhna a da dûono lin kehpi zêt haltaorhna.
Njûlaniç hajkûna
Edit
Njûlan sjeh rehmlik,
Çi pâli hulan sûh muç,
Pêna tîmo bûd.
Hajkûna un unâl sçpâkna
Edit
Like tissue paper,
delicate summer petals,
adorn this season.
(bohn @teasawilliams)
Ad blocker interference detected!
Wikia is a free-to-use site that makes money from advertising. We have a modified experience for viewers using ad blockers

Wikia is not accessible if you've made further modifications. Remove the custom ad blocker rule(s) and the page will load as expected.