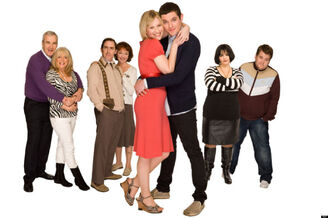 Gavin & Stacey sjeh Sûneilâniç ehnojan kulkieperp dêlien det hwap ahr da sûhneibûd nôhloro o Gavin Shipman (o Billericay, Înglân) a Stacey West (o Galona).
Mahân kukiepohnna
Edit
Un Lânna Sûhnei
Edit
Gavin & Stacey gonitan ahr BBC Three, kulkwanap orn pohnna 16-34. Wehj da sûhsei o da sçoun, çi mânitan î BBC Two ac wehj BBC One.
Gavin & Stacey sçouniçlan ahr BBC Entertainment, BBC America (un Ronlân) a BBC Canada (un Noronalân). Çi sçouniçlan un Sûbonlân (Seven Network, 7TWO, ABC2 a UK-TV), Drispêlân (Acht), Israel (HOT V.O.D a Yes Stars Comedy), Pohnsûhnlân (RTÉ Two), Farslân (RTL 8), Vapejalân (Stöð 2), Ronwâlân (TV ONE), Flêhan (RTP2), Sweden (SVT) a Catalunya (3XL)
Ehstem mûmo
Edit
Ad blocker interference detected!
Wikia is a free-to-use site that makes money from advertising. We have a modified experience for viewers using ad blockers

Wikia is not accessible if you've made further modifications. Remove the custom ad blocker rule(s) and the page will load as expected.