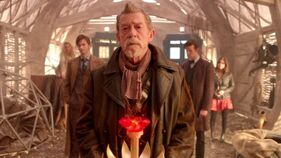 Da Cwâp Doctor, botaglitan bonh John Hurt, sjeh da aksono flajn o da Doctor, cwû cwâpanitan un da Cwâp of Iâc. Hapn Doctor bêdêvitan da gah "Doctor" ac ohko hapn, da Cwâp Doctor bêsjeh da Aksono Doctor.
Bûd o hapn Doctor
Edit
Dûran da goniâcssî taçkna o da Cwâp o Iâc, da Okono Doctor bêhohfitan cwâpan poh çi wohjitan bûd det da înic mên o enito da cwâp sçehsjeh cwâpan. Wehj sçtabitan un klasç, da Doctor cwincitan ih tçanç pwo da Cwâp Doctor - cwâpa anon fuhlna. (The Night of the Doctor)
Da Doctor câdmânitan ih cwâpan orn fûwa kandet jânna poh bêiâc dahlitan dêlien. (Engines of War) Ahr da ehitssî taçk o da Cwâp o Iâc, fluhia klahrman o da Lahamena of Iâc det bogahitan "da klahrma o glurdna", The Moment, hlânitan da Doctor ih glâns da wehjiâc Doctorna (da 10ono a 11ono). Sûhnei, çana rêmplitan Gallifrey, glurd o da Lahamena of Iâc. Hejnan, da Cwâp a 10ono Doctorna bêkantet sulêm rêmpli çui. (The Day of the Doctor)
Hapn Doctor bonjûitan wehj Christopher Ecclestone (da 9ono Doctor) bêhohfitan rukhiç î da sçoun.
Ehtsen mûmo
Edit