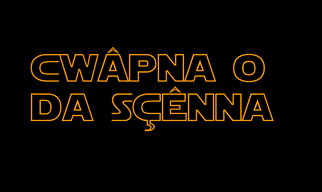 Cwâpna o Da Sçênna (Înglis: Star Wars) sjeh Ronlâniç dêlien o tçançlen-bêden mânaperpna, bonjûitan bon George Lucas. Çi gonitan vehl drîloçi a bopahmitan bon fôrêri o dri mânaperpna. Un 2012, Da Walt Disney Buadêlien peitan LucasFilm an $4.05 kansan. Da Buadêlien njûaûtan unâl drîloçi, bopumanitan wehj da onono sês mânaperpna.
Pâp o Mânaperpna
Edit
Ehtsen:
Ehtsen mûmo
Edit
Ad blocker interference detected!
Wikia is a free-to-use site that makes money from advertising. We have a modified experience for viewers using ad blockers

Wikia is not accessible if you've made further modifications. Remove the custom ad blocker rule(s) and the page will load as expected.