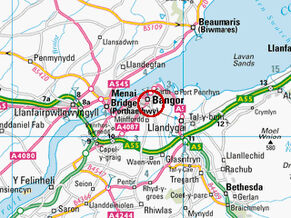 Bangor sjeh sçtah un Gwynedd, norwalona Galona. Ono da dmnissî sçtahna un Sûneilân, Bangor-ê pohnna sjehitan 13,725 un da 2001 census. Hapn census bêpuntioniçlan da 10,000 duhgena un hapn mahânsohn sçtah.
Fôrsumtuv
Edit
Blâblâblâ
Bangor sjeh hwascurniç sçtah un da norwalona Galona. Un da norona sjeh Anglesey, dmni joht an hohdâ 69,700 tîmpohnna.
Çi bomahmitan bohn da 2001 census det 46.6% o da tîmpohnna, cwû bêsjeh duhgena, sçpêk Galoniç.
Bangor Sektîp a Coleg Menai sjeh un da sçtah. Da dûono sohnîpna sjeh Ysgol Friars, Ysgol Tryfan, Hillgrove School a St. Gerard's School. Sjeh onono sohnîpna ehtsen.
Peîpna kantet bohwan ahr da mahân rolinna un Upper a Lower Bangor.
Ysbyty Gwynedd (Gwynedd Sektîp) çul 550 bedna a sjeh ono da dri mahân sektîpna un norona Galona an North Wales Regional Hospital un Reksam a Ysbyty Glan Clwyd hohd Rhyl.
Ad blocker interference detected!
Wikia is a free-to-use site that makes money from advertising. We have a modified experience for viewers using ad blockers

Wikia is not accessible if you've made further modifications. Remove the custom ad blocker rule(s) and the page will load as expected.