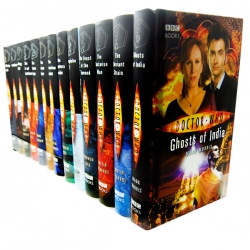 Da BBC Njûon Dêlien Ôrlana (Înglis: The BBC New Series Adventures) sjeh da gah bogehp î da tuvna det sûhneilio. Çana sçêna Chrisopher Ecclestone, David Tennant, Matt Smith a Peter Capaldi vehl da Doctor o da dêhlien Doctor Who.
Pâp o Tuvna
Edit
Da Aksono Doctor
Edit
Sçêna Rose Tyler:
The Clockwise Man
The Monsters Inside
Winner Takes All
Sçêna Rose Tyler a Jack Harkness:
The Deviant Strain
The Stealer of Dreams
Da Dînono Doctor
Edit
Sçêna Rose Tyler:
The Stone Rose
The Feast of the Drowned
The Resurrection Casket
The Nightmare of Black Island
The Art of Destruction
The Price of Paradise
Sçêna Martha Jones:
The Last Dodo
Wooden Heart
Forever Autumn
Sick Building
Wetworld
Wishing World
The Pirate Loop
Peacemaker
Martha in the Mirror
Snowglobe 7
The Many Hands
Sçêna Donna Noble:
Ghosts of India
The Doctor Trap
Shining Darkness
Anon naisna:
The Story of Martha - sçêna Martha Jones ano da Doctor
Beautiful Chaos - sçêna Donna Noble
The Eyeless
Judgement of the Judoon
The Slitheen Excursion
Prisoner of the Daleks
The Taking of Chelsea 426
Autonomy
The Krillitane Storm
Quick Reads:
I Am a Dalek
Made of Steel
Revenge of the Judoon
The Sontaran Games
Code of the Krillitanes
Da Dînonono Doctor
Edit
Sçêna Amy Pond:
Apollo 23
Night of the Humans
The Forgotten Army
Sçêna Amy Pond a Rory Williams:
Nuclear Time
The King's Dragon
The Glamour Chase
The Coming of the Terraphiles - ano Rory Williams
Dead of Winter
The Way Through the Woods
Hunter's Moon
Touched by an Angel
Paradox Lost
Borrowed Time
Ano naisna:
Quick Reads:
Magic of the Angels - an Amy a Rory
The Silurian Gift
Da Dîndûono Doctor
Edit
Silhouette
The Crawling Terror
The Blood Cell
Unâl Doctorna
Edit
Ad blocker interference detected!
Wikia is a free-to-use site that makes money from advertising. We have a modified experience for viewers using ad blockers

Wikia is not accessible if you've made further modifications. Remove the custom ad blocker rule(s) and the page will load as expected.