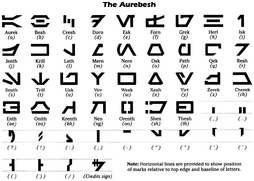 Aurebesh sjeh da bêdeniç sumna un da mânaperp dêlien Cwâpna o da Sçênna. Un da hahlaglurd o da mânaperpna, Aurebesh sjeh kentonssî a bodêvtsî sumna.
Sçpakpunk klokna
Edit
Remsumna boscrî unârona.
Sjeh sumna det dâhlan dûo sumna sûhnei. Orn rehmvôt- 'thesh' sjeh da Înglis orh "th".
Da sum o da Credit (awrion un da mânaperpna) sjeh 'resh' an dûo linna, vehl da linna un da pundçan un da dolaçon. Da sum dêv 'resh' ohko da gah o awrion sjeh Republic Currency.

Ehtsen mûmo
Edit
'Aurebesh' ahr da Wiki o Cwâpna o da Sçênna - Înglis
Ad blocker interference detected!
Wikia is a free-to-use site that makes money from advertising. We have a modified experience for viewers using ad blockers

Wikia is not accessible if you've made further modifications. Remove the custom ad blocker rule(s) and the page will load as expected.