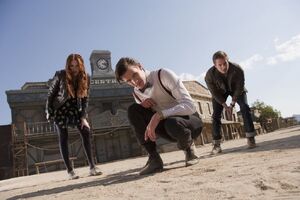 A Town Called Mercy 
(
Njûlan
: 
Sçtah Bogahoh Bêçaranta
) sjeh da drîono sçoun un da zêtono dêlien o 
Doctor Who
, bokulkwanitan ar da 15ono Aksfûwêt 2012. Çi boscrîtan bon 
Toby Whithouse
 a booritan bon Saul Metzstein.
Da Doctor a çâ naisna Amy Pond a Rory Williams umwelo Ronlâniç sçtah un da "Wild West", sçepânitan o da glurd wen çana gehp unâlglurdaniç sekhâhlte, Kahler-Jex, î da saibuhpohn da Gunslinger. Da Gunslinger sjehitan enjûa o da tçançenna o Kahler-Jex. Da Doctor raidû cwinca oç çe çahl gehp Kahler-Jex î da Gunslinger ja hwan unâl bahâhle ih hâhlt da Gunslinger.
Onono sçounana o "A Town Called Mercy" sjehitan ahr BBC One a BBC One HD ahr da 15ono Aksfûwêt 2012, a ahr BBC America ahr da sçtrû tiâçk. Çi boglânsitan pon 6.6dînsan pohnna.
Ehtsen mûmo
Edit
Ahr da Njûlan Wiki:
Al da Wiki:
Ad blocker interference detected!
Wikia is a free-to-use site that makes money from advertising. We have a modified experience for viewers using ad blockers

Wikia is not accessible if you've made further modifications. Remove the custom ad blocker rule(s) and the page will load as expected.